Watch Repair
Watch Repair - Watch Batteries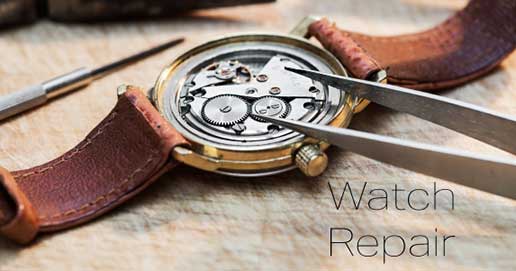 Inventory Adjusters has been providing quality watch repair services since 1995. We can handle all types of watch repair – from a simple battery replacement to a complete overhaul.
We can repair over 150 different watch brands including Seiko, Citizen, Movado, TAG Heuer, Breitling, Rolex and many more. Most of the time we can give you a FREE estimate immediately.
Watch Batteries changed while you wait!
We offer in-store battery replacement services for nearly all brands of watches.
If necessary, all timepieces with water resistant ratings are required to be pressure tested to factory specifications, after performing a battery replacement service, in order to ensure the water-resistant integrity of your timepiece.
Watch Band

Replacement
We have hundreds of different styles of watch bands in stock. If your watch is in need of a replacement strap, stop in and we can help you find a great replacement.
Watch Service
Watch not working? As your timepiece ages scratches appear, seals being to crack, batteries weaken and lubrication breaks down.
We are the place for top quality watch service at competitive prices. Our watch service center offers FREE estimates, quick turnaround, competitive pricing and uses manufacturer's original parts where available. After your timepiece has been serviced, it is rigorously tested to ensure that it is in complete working order.
Visit Inventory Adjusters today and let us check your mechanical, automatic, or quartz watch for any necessary repairs.
Watch Overhaul
Inventory Adjusters will give you a FREE estimate on a complete overhaul service for your timepiece. This includes a professional and thorough ultrasonic cleaning of the internal mechanism, the proper lubrication of all moving parts per factory specifications, and adjusted for precision timing. The exterior case and watch bracelet are polished and refinished, and the watch is then properly sealed and pressure tested to manufacturer specifications.
Stop In Today!
3437 E McDowell
Phoenix, AZ 85008
602-278-5966