Trade Shows
Tradeshow Schedule 2017
Inventory Adjusters participates in many industry trade shows. We ship a large selection of watches and jewelry to each show to sell to our wholesale customers. See below for a show in a city near you!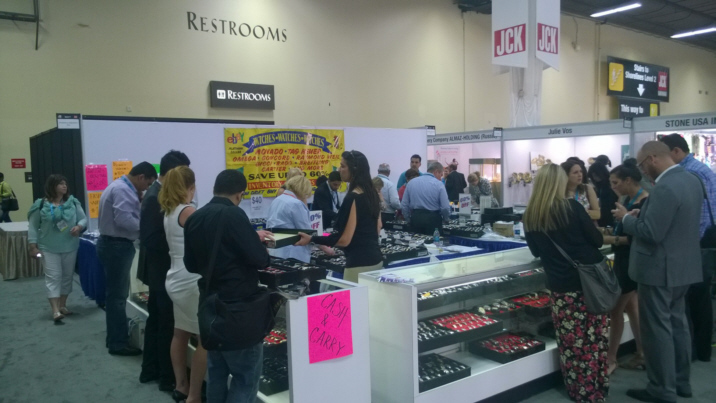 TUCSON - January 28 - February 5, 2017
Tucson International Gem & Jewelry Show
Clarion Conference Center
4550 S. Palo Verde Rd.
Tucson, AZ.
ATLANTA - March 4 - 6, 2017
Atlanta Jewelry Show
Cobb Galleria Centre
NEW YORK - March 12 - 14, 2017
JA New York
Javitz Convention Center
LAS VEGAS - March 19 - 22 , 2017
ASD Las Vegas
Las Vegas Convention Center
Booth N2655
MIAMI - April 8 - 10, 2017
JIS Miami
Ft. Lauderdale Convention Center
LAS VEGAS - JUNE 5 - 8, 2017
JIS Las Vegas
Tropicana Hotel
NEW YORK - July 23 - 25, 2017
JA New York Summer Show
Javits Convention Center
Booth 2268
LAS VEGAS - July 30 - August 2, 2017
ASD Las Vegas
Las Vegas Convention Center
Booth N2655
ATLANTA - August 12 - 14, 2017
Atlanta Jewelry Show
Cobb Galleria Centre
Booth #1139-1143
TUCSON - September 7 - 10, 2017
Wholesale Gem & Jewelry Show
Holidome
4475 S. Country Club Rd.
Tucson, AZ.
Booth #84/86
FT.LAUDERDALE - October 8 - 11, 2017
JIS Miami
Ft. Lauderdale Convention Center
1950 Eisenhower Blvd.
Ft. Lauderdale, FL.
Booth #1326
NEW YORK - October 29 - 31, 2017
JA New York
Javitz Convention Center
Booth #2268